| | |
| --- | --- |
| Monday | Closed |
| Tuesday | 10:00 AM - 8:00 PM |
| Wednesday | 10:00 AM - 8:00 PM |
| Thursday | 10:00 AM - 8:00 PM |
| Friday | 10:00 AM - 8:00 PM |
| Saturday | 10:00 AM - 6:00 PM |
| Sunday | 11:00 AM - 6:00 PM |
Cut & Blow-Dry Services
Stylist
Senior
Wash, Cut & Blow-Dry (60min)
$70
$80
Scissors cut short back and sides / clippers cut (45min)
$50
$60
Fringe / Bangs cut
$20
$20
Styling
Shampoo & Blow-Dry (45min)
$50
$60
Hair-Up (60min - please call)
from $90
from $90
Bridal Hair-Up + trial (90min - on consultation)
from $180
from $180
Treatment & Other
Treatment with service (30min)
$70
$70
Treatment with blowdry (1h15min)
$95
$95
Wellaplex with color service
Bleach services include Wellaplex
Brazilian Treatment (4hrs)
from $200-300
from $200-300
Perm (2-3hrs - please call)
$95-205
$95-205
Color Services
Stylist
Senior
Bleach & Toner
Regrowth 1.5inches (3hrs)
$165
$175
Short (3hrs)
$195
$205
Medium (4hrs)
$240
$265
Long/Thick (5hrs)
$285
$325
Permanent
Regrowth (1h 30min)
$90
$100
Full Head (max 3 tubes of colour - 2hrs)
$115+ (115-165)
$125+ (125-185)
Semi-Permanent (1hr 30 min)
$115+
$125+
Extra tube of colour
$35
$35
Colour correction (5hrs - please call)
please call
please call
Balayage (inclusive of toner)
Balayage (above jawline - 3hrs)
$165
$185
Balayage (below jawline - 3hrs 30min)
$225+ (225-245)
$255+ (255-285)
Balayge for 5+ levels of lift / thick hair (4hrs 30min)
$265+ (265-300)
$300+ (300-345)
Touch Up Balayage (3" roots max - 3hrs)
$165
$185
Base Tint surplus (30min)
$80
$80
Highlights (inclusive of toner)
Partial (3hrs)
$165
$185
Half Head (3hrs 30min)
$225
$255
Full Head (4hrs)
$265
$300
Base Tint surplus (30min)
$80
$80
We want the utmost best for our clients and best service goes hand in hand with using what we deem are the best products. At ESHK Hair Brooklyn we use Oway Organic Hair Care and Wella Professional colors and dyes. These brands help us bring a range of solutions, from gentle to our planet to stunning colour results. More info on the Oway products range below; to help you care for your hair and keep it in top shape as if you'd just left our salon.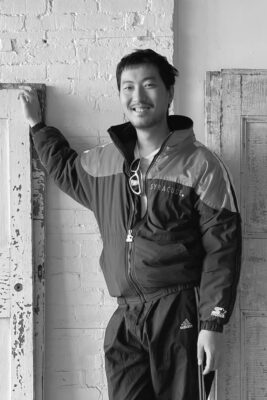 2022 was a year of big changes at ESHK. We found lovely partners in Brooklyn and shortly after opened our Toronto hair salon in the fabulous area of Little Portugal. Our focus is and always has been our clients and making sure our salons are a warm and welcoming place. As with each ESHK salon we started from scratch design wise. For this branch we opted for more earthy and warm tones. Some vintage pieces, custom timber furniture and our signature reclaimed door mirrors set the tone.
We love Toronto as a foodie heaven and you'll find loads of great eateries and bars nearby us. You can start your day by picking up a delicious cup of coffee at 135 Ossington or I Deal Coffee & Wine and a mouthwatering croissant at Geste Croissanterie. On a sunny day you can relax in Trinity Bellwoods Park and also grab a fresh beer at Bellwoods Brewery. Bar Poet is a great place for eating some delicious pizza under twinkly lights and indoor trees. Be sure to pop by our friends at Soop Soop for some curated fashion items and magazines.
At ESHK we want the best for our clients, so we use the products we deem to be excellent and help maintain healthy hair. For colors and dyes we use the wonderful Wella Professional. Our Toronto hair salon director / co-founder George and the amazing team are there to take care of you and get you the hairstyle you're after. From on-trend haircuts to natural balayage or bright colors: pop in, relax and we'll do the rest.
For colour appointments in London & Berlin:
Please make sure you come in at least 48 hours before your appointment for a skin/patch test. If you are a regular customer of ours, please note a test is required at least every six months.
Sensitivity can change over time, due to some change in circumstances or a change in product formulation. With concerns around post-Covid skin sensitivity (even if you haven't tested positive), we kindly ask all colour clients to have the skin test done. We just want to make sure you'll be fine at the time of your appointment. You will be asked to sign a form with regards to this procedure when you come to have the test done. Without it we will unfortunately not be able to see you.
For all bleach customers please note we strongly advise you to not wash your hair 48 hours prior to your appointment. It is common to feel slight discomfort / irritation to the scalp up to 48 hours post appointment.
Our colour products are by Wella Professional (London, Berlin & Toronto), Schwarzkopf Professional (NY), Oway Organic (all salons) and Pulp Riot (London & Berlin). The Wella ColourTouch range used for semi-permanent colouring is ammonia free.